In 1989, Quality Carpet Care was born as a dream. Neal Bradford began the business with a homemade van mounted cleaning machine with an older used van. He attended IICRC approved schools, ultimately becoming certified as a master textile technician after multiple schools and seminars. In 1995, Neal's son, Robert Bradford joined the family company full time, and took ownership of the company in 2013. Robert has the same committed, service minded spirit that the company began with, he always strives to meet the needs of each client.
Quality Carpet Care has grown to a company with over 4,000 clients. We are most grateful and proud of the fact that our customer base is comprised of over 98% repeat or referrals. Most clients are referred by family, friends, neighbors or co-workers. Robert is grateful and proud to be considered the best choice in the area by thousands of repeat clients. It is our goal to be your carpet cleaner for life. We strive to meet our clients' needs and we rely on your feedback to help us improve our service. We have continued to stay informed regarding the latest up-to-date technology, always using the highest quality and safest cleaning solutions available.
Our company logo includes, "our aim is our name". So, when we named the company Quality Carpet Care, our goal from the very beginning was to earn that name, Quality. We have maintained our goal as being the best at what we do, not the largest. We want to be considered by our clients as the company with integrity, dependability and affordability. That has been our mission from the beginning…and our family has never wavered from that mission. We never want to to forget where our success comes from…blessed by God, with the finest clients any company could ever hope for.
We serve residential and commercial establishments Monday – Friday, however, we do occasionally serve our clients in a special time of need, such as move in situations, etc on weekends. As a family operated business, we reserve weekends for time with our families.
Why Choose Quality Carpet Care?
We have extensive training and experience to provide reliable carpet cleaning and upholstery cleaning, including difficult stain removal. We participate in continuous training to stay up to date on the latest advances in cleaning technology. After the service, if you have concerns, they become our concerns…we will return and make the extra effort to maintain your trust and satisfaction…our reputation depends on how you feel AFTER the job, not before.
Also be sure to ask about Scotchgard and our Spot and Stain Warranty.
We also clean your area rugs. Synthetic and some wool area rugs may be cleaned at your home.
Our van mounted carpet cleaning systems have the power to clean the most challenging soiled carpet, area rugs, upholstery or ceramic tile and grout.
We are happy to work with home owners, realtors, property managers, business owners and tenants to keep their carpets looking and smelling clean and fresh.
We use only the very best commercial equipment without the franchise overhead so we can charge less than most local Chem-Dry, Stanley Steamer or ServPro's. Why pay the extra cost for a chain's radio ads & techs when you can hire the owner for less?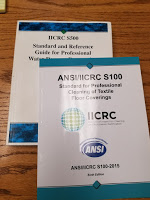 The IICRC has written standards that are also ANSI Certified and recognized by the carpet manufacturers, insurance companies and the carpet industry as a whole. The IICRC has certified instructors who hold in-person classes all over the country where carpet cleaning professionals are taught and tested on the cleaning standards found in the IICRC S100 publication. The S100 is also called the "Standard for professional Cleaning of Textile Floor Coverings."
Without this education a technician will lack knowledge of how the PH of cleaning solutions affects different stains and materials. They may also not know about , soil suspension, spotting techniques, pet urine neutralization, fiber identification, carpet construction and so much more.
Some companies have no formal documented training and still do very well at cleaning, but having the foundational knowledge makes the learning curve for technicians less daunting. Within the IICRC certification tracks, there are different rankings. The first is Certified Technician in whatever discipline they choose. The next ranking is that of Journeyman Technician. This technician has taken multiple classes and has passed the appropriate exams and has 12 months active service in the industry. The last ranking is Master Technician which requires expert knowledge in multiple areas of carpet cleaning and repair plus a minimum of 3 years since receiving their original certification. Robert became a certified technician years ago and Neal became a Master technician over 23 years ago.